Beat the Winter Blues Pizza Party – March 3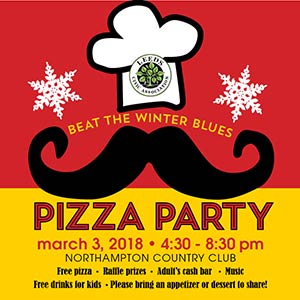 If the frigid temps of January have kept you indoors and out of touch, this party will be a welcome outing for you and your family. All Leeds residents are welcome! The pizza party has been a Leeds tradition for close to twenty years. All ages seem to get a kick out of it. It's a time to socialize, laugh, eat and drink with friends and neighbors, and maybe win raffle item or two.
The Leeds Civic Association is putting out the request for raffle prize donations. Was there a holiday gift that got tucked away in your closet, cabinet or garage? It might make a perfect raffle prize! Gently used and new items are welcome. Please contact Heidi Stevens at 585-9923 or heidi@heidistevens.com to arrange for pick up or to drop off your donation.